By Leah Barbour
For Bruce Crist and his daughter Courtney, food science is a family affair. 
Together, Courtney and Bruce are integral parts of Marination 101, a three-day April workshop for ingredient suppliers and meat, poultry and seafood processors that use marination to enhance muscle foods. 
Delivered at Mississippi State University and hosted and coordinated by the MSU Extension Service and the MSU Department of Food Science, Nutrition and Health Promotion, the workshop offers muscle foods processors and related industries networking and mentorship opportunities, as well as chances to apply new techniques and apply the science in hands-on labs.
For more than 30 years, Bruce has been developing processes for marination and seasonal blends for the meat processing industry. Courtney works for Mississippi State University as an associate Extension professor in food science, nutrition, and health promotion, and she delivers the latest information to industry professionals across the state. Together, the father-daughter pair were members of the committee that helped organize and deliver the latest research-based information for the meat processing industry at the workshop.
From muscle and meat chemistry to basic marination techniques and methodologies, topics at Marination 101 allowed ingredient, meat, poultry, fish and seafood meat processors to try new techniques in hands-on laboratories, and professionals had the chance to network with other food scientists and research chefs from all over the U.S. and even Canada.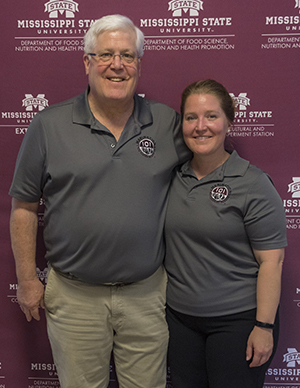 Bruce has been a presenter at the longstanding workshop since it began in the late 2000s, and he said he's happy to give back to the food science industry that's given him so much. Plus, he said, getting to watch his daughter share her expertise is a special treat.
"Courtney is part of Extension now, but she's been part of Marination 101 since she was an undergraduate here at Mississippi State. Now, it's her baby, and she's giving back to the industry," Bruce said. "We feel we are paying it forward by  providing the educational forum to the industry  by being here to teach, not sell products."
The focus on education, not profit, makes Marination 101 a go-to professional development opportunity for food science professionals, Courtney agreed.
"Food science focuses on how to bring safe, high quality and great tasting food products to consumers through production, and it's fulfilling that industry professionals see so much value in what we're doing at Marination 101," she said. "They see the value in what we do, and it's putting Mississippi State University on the map. That makes it fulfilling for all of us."
Industry professionals represented a range of companies, including Bell Flavors & Fragrances (Illinois), Blend Pak (Kentucky), H-E-B Grocery Co. LP (Texas), Koch Foods (Illinois), Peco Foods (Alabama), and Reed Food Technology (Mississippi). Participants built personal connections and developed networks at the workshop. Mentor relationships formed between professionals and MSU graduate students, and a family atmosphere results from the collaborative nature of the workshop, Courtney explained.
"We all need answers to our questions about food, and we have great colleagues here at MSU that make it fun: presenters, colleagues, students and professionals are all working together," Courtney said. "Marination 101 is a great collaborative event that touches all aspects of Mississippi State's land grant mission of teaching, research and service."
Bruce is proud to watch his daughter organize and deliver Marination 101, and he continues to participate as a presenter.
"It's nice to see my daughter enjoy putting this together," he said. "She likes educating the professionals here. She's finding solutions to the questions that they have."
"I came from North Carolina for this event, to give back to this industry, and seeing my daughter answer these people's questions is priceless."
Photos by Kevin Hudson