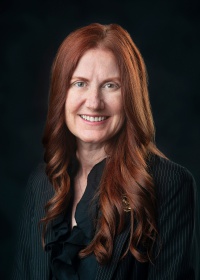 Dr. Ashli Brown
Associate Vice President
Division of Agriculture, Forestry, and Veterinary Medicine
Interim Head, Department of Food Science, Nutrition, and Health Promotion
Time in Position: 20 months
Years at MSU: 19
As a native New Yorker, why have you made Mississippi your home? 
I came here for a postdoc with the USDA-ARS, but I've stayed for almost 20 years now because I've always, always felt supported by the administration, faculty, and staff here at Mississippi State. I was given the opportunity to be successful, and I've had great leaders guide me. My hometown is very similar to rural Mississippi. I grew up in the Adirondack Mountains in a small town three and a half hours north of New York City. The agriculture is a little different—there are a lot of dairies and apple orchards in New York. Accents are different, and here, you move in and four people show up with a casserole; that's unheard of in New York! But, overall, it's not that different.
What led you to your current position? 
My original plan was to go to medical school, but I decided against that. I had an organic chemistry professor who had a very influential and intimidating personality. When I told him my grand plan of not going to medical school, he asked me what I was going to do, and I told him I was going to race mountain bikes. He said, "Well, that's asinine. Why don't you go to grad school in chemistry?" I ended up managing the organic chemistry lab and racing mountain bikes and then worked on my Ph.D. in chemistry/biochemistry because being a professional mountain biker and bike messenger doesn't really pay the bills.
Scott Willard [current dean of College of Agriculture and Life Sciences and director of Mississippi Agriculture and Forestry Experiment Station] hired me as a faculty member in the biochemistry department in 2007. I moved here in 2004 with five bikes on the roof of my Subaru, two dogs, and anything that didn't fit didn't come with me. I got to Starkville on a Saturday and started work on Monday.
As a faculty member in the biochemistry department, I collaborated often with the Mississippi State Chemical Laboratory. When the state chemist left, I was in an interim director role at the state chem lab. I had a conversation with Scott [Willard] about applying for the state chemist position. I told him that I thought I could really make a difference, and he helped me weigh the pros and cons. If he had told me that it wasn't the right time, I would have said okay and supported whoever was in that role. In 2013, I moved from a full-time associate professor role into the state chemist position. In July 2021, I started my current position. Hearing Dr. Coble's vision for the Division inspired me, our different educational backgrounds complemented each other which I thought would allow us to tackle complex challenges.
What experiences as the state chemist have helped you in your current position?
Serving as the state chemist gave me a bigger picture of what agriculture means in the state. That's probably not something that I fully understood as a faculty member, especially as a biochemist. As the state chemist, I had to step into a leadership role very quickly and establish trust and build relationships. Relationship building is definitely a skill that I was able to hone in my previous role. 
What do you love about your job? 
It's really the people. There's a real sense of let's just roll up our sleeves and do what needs to be done. You get that sense regardless of where you go around the state. Part of my postdoc work in chemistry and entomology was done at the USDA Agricultural Research Service location in Stoneville, and it was the same there. That's probably something that doesn't get articulated enough is that people in Mississippi really work together to accomplish goals.
One thing that really excites me about this position is the investment back in people. I felt so supported as a faculty member as I matriculated through my different roles. Being able to hopefully be that mentor/support person to help someone else be successful is really why I wanted to take this position.
What's something that surprised you about this role? 
Before coming here, I had a good understanding of the complexity of ag, but I'm not sure I was fully aware of the complex dynamics between Extension, veterinary medicine, forestry, and how they are all intertwined. It's like a chair—if it didn't have four legs, it would be unbalanced.  Being able to leverage research, teaching and outreach—you need all of those components to really have the impact that we have. 
What's next?
For the Division to continue to be successful, we have to take care of our people. One of the programs I'm working on right now with Leslie Burger who is interning in our office focuses on supporting mid-career faculty and identifying what they need to be successful. If we don't have successful faculty that feel they're part of the campus community, then we're not going to have successful students and programs that impact our state. We have to start here and support each other.
As far as transformational change that we're working on throughout the university, I'm leading the "ignite innovation" component. We all have research that is impactful, and it's impactful in different ways. There's so much distrust in science right now. Highlighting why we do what we do and telling that story is going to be so important as we move forward.

When you're not working, what are you doing?
Two years ago, my husband (Casey) and I bought an 1850's farmhouse on almost 60 acres.  That has been an adventure!  Having my horses and dogs all in the same place is amazing.  Taking care of my three horses centers me. I can feel any stress melt away when I'm with them. I didn't grow up with horses. I always wanted a horse, but I ended up with a cow and showing rabbits in 4-H. One of my dear friends and former colleagues in biochemistry, Anna Chromiak, who has passed away, was big into horses. The horse bug is only one of the many gifts she has given me.
Don't miss: "One-on-One with DAFVM Vice President Dr. Keith Coble"